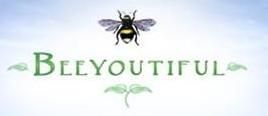 Beeyoutiful has given me the opportunity to review a couple of their products and I must say, I have been very pleased with these natural alternatives. This is an overview of what they believe, straight from the ABOUT US tab on their site:
At Beeyoutiful.com, we believe that each individual is responsible for their own health. It is not a doctor's responsibility to keep you in good health. Instead they are a tremendous resource, especially for those times when urgent care is required. But, they are only one of many resources. And the tools they use, while powerful, are not the only tools available. But a tool is worthless unless one knows how to use it.

We have found a lot a tools that have worked very well for our families, and made Beeyoutiful a repository for those tools, as well as the information to effectively use them. As we learn more, we share more. Our goal is to eventually carry every natural product that we use. We're not there yet. We may never be as we are constantly being exposed to new and great products. As much as is in our power, we want to aid others in obtaining and maintaining good health.

Our mission is to do good to all men. Please let us know how we're doing!
The two products that I have been using daily since I received them a month ago, are the Milk and Honey Facial Bar and B.A.L.M. lip moisturizer.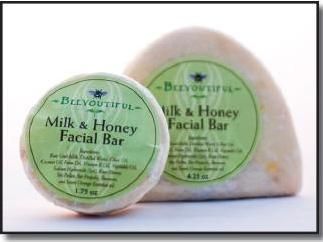 This was a cute little beehive bar of soap that lasts a long time. In fact I've used it twice daily for weeks and it looks like it's been barely used at all. It's made from bee products (honey, propolis, pollen, and wax) along with goat milk. I still enjoy washing my face with this cute little bee hive each day, it just feels good. It has little speckles that work as an exfoliate. My skin feels really soft and clean after washing with this.
The website claims this product will repair sores, fight acne, soothe chapping, and balance uneven or oily skin. I had a few small pimples pop up when I first started using it, but they eventually cleared up. As for clearing up oily skin, it most definitely did help with that. It's nice to use something that I know is natural and good for my skin.
The cost for this bar is $10, but if you purchase in bulk you can receive discounts up to 20%
I received the peppermint version of B.A.L.M. (Beeyoutiful All-natural Lip Moisturizer) and I am in love! Anyone who knows me, knows that I always have a lip moisturizer within reach. I have them in my purse, coat pockets, and all over the house. Since receiving B.A.L.M. none of the others stack up (and believe me, I have ALL the brands, thanks to my couponing) I will go out of my way to find my B.A.L.M. instead of using the stick that's within my reach. If I'd been given the choice I probably would have taken the orange flavor, but after trying the peppermint I am glad to have it instead of orange! It's so refreshing!
B.A.L.M. is made from these natural ingredients: grape seed oil, shea butter, beeswax, and essential oils.The cost for B.A.L.M. is $3 or 3 for $2.70 each.
A variety of Beeyoutiful products were reviewed by the TOS Crew so be sure to visit the crew blog post for more reviews.
**Disclaimer: As a member of the TOS Homeschool Crew, I received this product free of charge, in exchange for my honest opinion/review. For more honest reviews from real homeschoolers, visit the TOS Crew website.