Recently my family was lucky enough to be chosen to review two
All About Learning
products:
All About Reading Level 1
and the
Deluxe Reading Interactive Kit
. These two products actually go together but the Deluxe kit isn't necessary to complete the program. This is
All About Learning's
brand new program designed to help children, with or without reading struggles, learn to read easily and effectively. I used this program with my six year old son and my four year old daughter.
The Deluxe Reading Kit I received came with everything you see below.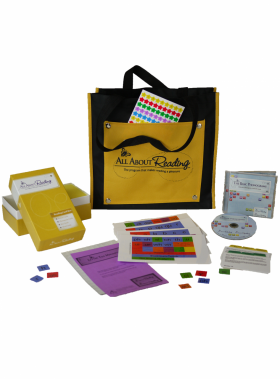 I feel really blessed to have been given an opportunity to look over this program and try it out with my children for two reasons. First, we had just completed a pre-reading program that introduced the letter sounds, so the next obvious step for us would be to begin blending. Second, this program teaches the way I believe my children need to be taught, using multi-sensory methods that are straight to the point, with lots of review, and not overshadowed by flash and bling. You know what I mean by that, lots of distracting colors and busy worksheets that take away from the real task at hand, learning to read.
Learning to read is such a vital, yet difficult task for many children that, in my opinion, every program should be taught with the idea that the child learning, may not fit the cookie cutter mold. In other words, you may have a struggling reader on your hands and not know it until you've been using the typical phonics program, that only 80% of the students are able to learn to read with, for quite awhile. By then you've wasted valuable time with the child and, unfortunately, you may have to go back to square one.
The
All About Reading
program uses all five of the key components of reading:
Phonological Awareness
Phonics and Decoding
Fluency
Vocabulary
Comprehension
---> The
Level 1 Kit
is $99.95 and consists of a teacher's manual, student packet and three hardback readers
--->The
Interactive Reading Deluxe Kit for Level 1
is $48.95 and it includes the Letter Tiles and magnets, a cute Tote, Phonogram CD, Reading Divider Cards, Star Stickers, and Reading Review Box (**Note I love all the bells and whistles that come with a
deluxe
anything but if money is an issue, there are other options available besides this deluxe kit, such as the
Basic Reading Interactive Kit
($28.95) or getting just the
Letter Tiles
($11.95). This program is worth the investment, but you don't have to get everything).
Before you Begin
There is a little bit of time involved initially because you have to pop out all the cards and letters and even put magnet's on the backs (We purchased a magnetic dry erase board for $15 and we keep our letters on this board, this was the company's recommendation). I did my prep work while watching TV and riding in the van so it wasn't too bad. After that the prep work is basically over. You open the book and go each day. It's laid out in a very easy to understand and follow plan. I LOVE that about this program!
How it's Supposed to Work
The
All About Reading
Level 1 program has 49 lessons. The first two lessons are slightly different but after those are complete you will follow this basic 5 step plan:
Before You Begin: This is your prep work. Usually not much here to do.
Review: You review what you've taught thus far
New Teaching: Using the letter tiles, activity sheets, fluency exercises and/or reader you will teach the new concepts. (By lesson 5 your child will be reading out of their cool hardback reader, "Run Bug, Run!") The activity sheets are kind of fun without being overwhelming. My kids enjoy the variety and we use them over and over for review purposes. (You can see a picture of one of these activities below "Feed the Monster")
Read-Aloud Time: Spend 20 min reading to your child (So important! I love that they schedule this in!)
Track Your Progress: The easiest part, and my kids favorite part, adding a star to their progress chart for completing a lesson
Feed the Monster
A cute review game that uses bones with words for the kids to read and 'feed the monster'
The author of this program, Marie Rippel, suggests doing five short lessons each week. Let your child determine the length of the lesson. If after 10 minutes they seem to not be paying attention or showing much interest, find a good stopping point and end your lesson for the day. If your child is older you may want to do two 20 min sessions per day. Another idea, for little kids especially, is to set a timer for 15-20 minutes and get as much done as you can in that amount of time. Always begin your day with 2-3 minutes of reviewing their cards, then move on to where you left off.
Making it Work for Us
So that's how it was designed to work and it really does work that way, but I thought I'd add more detail and share some of the changes I had to make to suite my kids.
If you notice in the top picture there is a yellow box, this is for storing the phonogram and word cards. Each day we review about 10 of these and once they can read the word or say the sound without hesitation, the card is moved to the mastered pile (we haven't moved many of the words but they know their phonograms really well). The magnetic board is where the kids use the tiles to build words, this is part of the Orton-Gillingham method of using multisensory (sound, sight, and touch) tools to teach reading and spelling.
One of the main purposes of Orton-Gillingham or multi-sensory learning is to engage the three main pathways of learning, which are visual, auditory, and kinesthetic. In doing so the child is taught in the way they were created to learn best (whether it be visual, auditory, or kinesthetic) and they are more likely to retain what they learn when they learn it all three ways simultaneously.
Since the blending wasn't really 'clicking' with my kids I sort of paused after a few lessons and worked on practicing our blending using the multi-sensory approach. This is what we are doing:
I will choose one of the words in their word stack and decide whether I want them to spell it or read it, then we follow these steps for each:
-For spelling a word I will say the word and have them repeat it after me. Then they will build the word by saying each sound and pulling down the corresponding letter tile. I then have them touch and say each letter sound and then blend the sounds to see if they spelled the correct word.
-For reading a word I will build the word with the tiles and have them touch each individual tile while saying it's sound and then run their finger under the word and blend it together.
We also had M&M drills. They took turns drawing a card from their word stack and if they could read it correctly they received a reward
The reward for a correct answer…
This worked amazingly well!!!
As I stated earlier, the blending process has proven to be really difficult for my kids so we are just going at our own pace. I know some will be able to complete a lesson in one day (it's definitely doable if your child can blend easily), but I didn't think it was the best for us, so we decided to take several days for each lesson. I want blending to be easier for them before we continue adding more and more words for them to recognize. We already have a pretty hefty stack and they have to sound out each of these (with difficulty).
**Update: 5 days after writing this review I was working with my 6 yr. old son and as we worked through his fluency chart, he began sounding and blending almost effortlessly. He was able to correctly blend the majority of the words, phrases, and sentences on the page. This is the first time he's been able to have a long reading lesson with no frustration (he is easily frustrated with anything that is the least bit challenging for him). This is truly amazing because we have dyslexia on both sides of our family and I have seen several early signs of it in him. Praise the Lord! This is more than wonderful! My 4 yr. old is doing okay but it hasn't really clicked like that for her…yet
If I could just get her to read the words from left to right I think it would happen for her too.
The Highlights of My Review
What you will get with
All About Reading
is a very easy to follow plan to teach even the struggling reader how to read without becoming discouraged (that means you too!). By starting with
Level 1
or even
Pre-Level 1
your child will get everything he or she needs in order to become an avid reader, there are no gaps in this program.
As a parent I couldn't ask for a better program to teach my child to read. The Teachers Manual was laid out beautifully without a lot of extra details that would cause me to want to shut it and put it away. It has just the basics that I need to achieve my lesson for that day. I could simply glance at it and go. After doing a couple lessons you kind of get an idea of what's happening next and it becomes even easier. Love it!
We really enjoyed the fun, simple activities that can be carried out easily without a lot of pre-planning. This is a picture of one of my older boys helping his younger siblings with phonogram and word BINGO. We've already made some nice memories. Thank you
All About Learning!
I really felt like
All About Learning
was committed to seeing my children and me succeed. I spoke with them on several different occasions about my children's individual weaknesses and needs and each and every time they responded in a quick and helpful manner.
Make sure you visit the
All About Reading
website, there are tons of downloads, samples, and useful information to help you determine whether this program will work for your family. And I will say they offer a sweet guarantee:
When you purchase through us, you get our "Go Ahead and Use It" one-year guarantee. You have one full year to try out our programs. If you find that any of the curriculums do not meet your needs, simply return the materials at any time within one year of purchase for a full refund of your purchase price.
In addition, you'll get lifetime support, so if you ever have a question, we're here to help!
If that doesn't make you want to give this company a try I don't know what will
So if you didn't get all the info you wanted from my review head on over to the
crew blog
for more reviews.
**Disclaimer: As a member of the TOS Homeschool Crew, I received this product free of charge, in exchange for my honest opinion/review. For more honest reviews from real homeschoolers, visit the
TOS Crew website.