My 11 year old, 9 year old and I, are taking Latin. Shocked? Well, what's even more shocking is…we're actually enjoying it! The program is called Visual Latin and it's a DVD program taught by Dwane Thomas. He has 15 years teaching experience, is fluent in four languages, and is the homeschooling father to five children. He's actually kind of funny at times but the more impressive thing to me is the simplicity in which he teaches.
WHY LATIN?
Good question. I wanted to know the same thing. These are the reasons given by Mr. Thomas during the introduction lessons.
Learning Latin makes understanding your language and other languages easier.
Latin opens the door to other Romance languages. There are 25 Romance languages, including Spanish, French, and Portuguese. These languages are about 90% Latin.
English is influenced by Latin. 90% of our multi-syllable words are derivatives of Latin.
Understanding Latin can change the way you think. You will better understand the meanings of the words your saying, hearing, and writing.
In high school I took French and Spanish (I did horribly in both). My eight grade French teacher started us off the very first day speaking in French the ENTIRE class period, except the last 5 minutes. So basically we walked into class with this strange looking (sorry but she was) woman speaking to us in a strange language and we had no idea why she wasn't stopping to explain what she was doing. The end of class she explained to us that we would only be allowed to speak English during the last 5 minutes and after the second semester there would be NO ENGLISH in her class.She deducted points from our grade for disobedience. About 95% of the students in my class failed. My Spanish teacher did a lot better, unfortunately I didn't. I'm really hoping learning a foreign language will be easier for my boys. My oldest really wants to master Spanish so he can travel with my husband on mission trips.
WHY VISUAL LATIN?
With Visual Latin the lessons are short and informative without a lot of in- depth explaining of things that we don't need to know right now. Each lesson has 3 videos and 3 worksheets. We watch one per day. The video lasts about 10-15 minutes and the worksheet is super easy. What am I saying? Baby steps. That's what we're taking. That's what we need. If it started out difficult we would probably be discouraged and give up. With the prior experience I've had with foreign languages I'm excited about this programs method.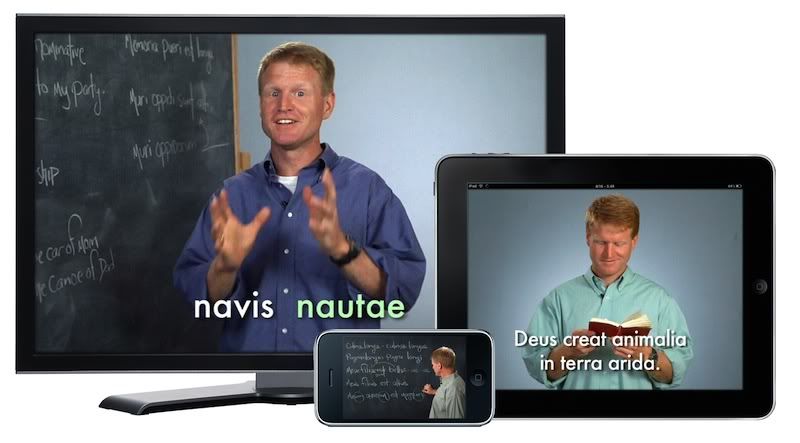 Visual Latin is for ages 9 and up. There are two parts, 30 lessons each, and ideally each part would be completed in a year, making it a two year program. The Scope and Sequence for Part 1 is below:
1. Being Verbs Basics | To Be and Not to Be
2. Being Verbs Basics | Predicate Nominatives and Adjectives
3. Gender | Boy Words and Girl Words
4. Singular and Plural | E Pluribus Unum
5. Declensions | Meet the Cases
6. Adjectives Learn to Agree with Nouns
7. The Case Files | Nominative and Genitive
8. Counting to 10 in Latin
9. Active Verb Basics | Indicative Mood
10. The Case Files | Accusative
11. The Case Files | Vocative
12. Changing Your Moods | Imperative & Indicative
13. The Case Files | Ablative
14. Meet the Pronouns & Question Words
15. Pronouns | Relative
16. Accusing Prepositions of Accusative Case
17. Verbs | Active & Passive
18. The Case Files | Dative
19. Pronouns | 1st & 2nd Person Personal
20. Pronouns | 3rd Person Personal
21. Pronouns | Demonstratives: this, these
22. Pronouns | Demonstratives: that, those
23. Pronouns | Relative and Interrogative
24. Pronouns | Possessive
25. Nouns | 3rd Declension – Regular and i-stem
26. Verbs | Infinitives – Active and Passive
27. Verbs | Infinities – Ability, Negation & Indirect
28. Nouns | 3rd Declension – Neuter
29. Nouns | 4th Declension
30. Adjectives | Positive & Comparative
You can purchase Visual Latin as a DVD or a download. You have the option of purchasing a family license or a class license. The class license is for co-op groups and the family license covers everyone in the household. The family option is $80 for the DVD's. That includes all 30 lessons. There are other options to explore as well and you can see those here. If you would like to try before you buy you can download the first six lessons free just by visiting their store.
If you are the least bit interested in learning Latin but maybe a little intimidated at the thought of it, PLEASE check out Visual Latin. Dwane Thomas really makes it seem simple and takes the scary out of it
.
To learn more about Visual Latin from other TOS Crew members, click here.
**Disclaimer: As a member of the TOS Homeschool Crew, I received this product free of charge, in exchange for my honest opinion/review. For more honest reviews from real homeschoolers, visit the TOS Crew website.