Bower Family Books sent us an e-book download of their new book "The Person I Marry." This is a delightful book about what one should look for in a future spouse. It is well written with a superb choice of words to give the reader a real sense of what the author is trying to convey.
It is truly a book of poetry that the youngest and oldest child will glean wisdom from. It's wonderful rhyme attracts the younger child and the older child will appreciate the solemnness of the message.
The message in this book is stated quite nicely on the first page when the child, awestruck by the beautiful wedding he/she is attending, is told by his/her mother:
"It's "who" not "what" that makes a great wedding. The clothing you wear and the flowers you carry, don't matter as much as the person you marry."
The mother then explains the need to seek someone with great virtues and not merely great looks.
Th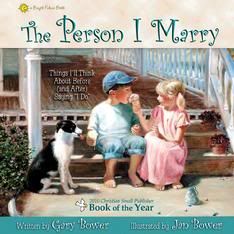 is 36 page book is beautifully illustrated and available in hardback for $11.49 I highly recommend it for the child in your life. It's a book you'll want to read again and again and again! So much depth and wisdom, yet so easy on the ears of a child. It's a book that truly needs to be read more than once in order to give the child plenty of time to absorb all that is being taught.
Husband and wife team, Gary and Jan Bower, authors of this book and owners of Bower Family Books offer a wide variety of other books and gifts on their website.
If you'd like to know what other homeschoolers thought of this book, visit the TOS Crew to read the Bower Family Book reviews.
**Disclaimer: As a member of the TOS Homeschool Crew, I received this product free of charge, in exchange for my honest opinion/review. For more honest reviews from real homeschoolers, visit the TOS Crew website.