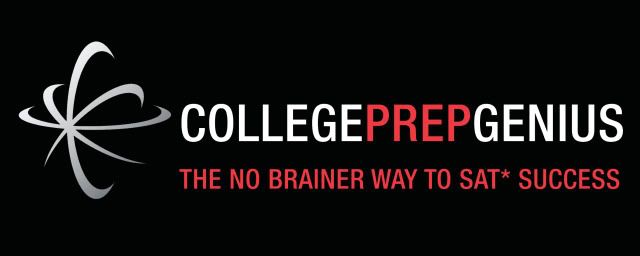 College Prep Genius is a program to help your high schooler prepare for their SAT test. On their website they boast that they got a FREE college education and YOU can too by raising your SAT scores. They offer a variety of material to help you achieve this goal. Just reading through their website will help immensely. Here are a few excerpts straight from:
Many students simply don't understand the strategies and logic behind these standardized tests. These exams test more than just a student's ability to answer questions; they test time-management skills, logical aptitude and much more. COLLEGE PREP GENIUS helps students pinpoint weak areas of the test by emphasizing the strategic and logical approach to taking the SAT. For example:

IF a student runs out of time. . .

The test is designed to stretch a student's ability to manage their allotted time. Large passage reading sections and intricately long math problems are included to test how a student will handle them. Many kids will work problems the normal way– the LONG way. Because this is a logic test, all questions have a logical answer. COLLEGE PREP GENIUS teaches students techniques that can help cut their problem-solving time in HALF!

IF your student isn't good at math. . .

Good News! You don't have to be a math expert to ace the math section of the SAT. Every math section uses the same recurring times of problems that have the same types of answers. If students can learn these patterns, they can quickly and easily get answers right! COLLEGE PREP GENIUS teaches tricks that make calculators obsolete, and helps test-takers to get answers quicker than ever before.

IF you're worried about wasting another dime on SAT prep. . .

Don't worry! The strategies and techniques of COLLEGE PREP GENIUS are effective and have helped thousands of students across the country increase their standardized test scores (See Testimonials). Most importantly, our program is completely AFFORDABLE. There's no need to spend thousands of dollars on a SAT prep course when COLLEGE PREP GENIUS gives you everything you need to know about preparing for these standardized exams. That's not to mention we have a 100% Money Back Guarantee!
Did you catch that last part? 100% Money Back Guarantee! I'd say that would make it worth the time to check it out. Especially if it could save you tons of college expense in the near future.
College Prep Genius offers a number of ways to purchase. You can get individual workbooks, DVD sets, fiction books to help learn vocabulary, or the complete kit which includes everything. Check out their complete list of products HERE.
As part of my review I was given four books from the VocabCafe. They were:
I.M. for Murder: A rousing, suspenseful tale of three boys and their encounter with an internet serial killer. This novella teaches an important lesson about online communication while at the same time introduces 300 new vocabulary words to the reader. A few of the vocabulary words included in I.M. for Murder: Stymie, Tripartite, and Vicissitude.
The $ummer of $aint Nick: Promises to improve vocabulary with its revolutionary design and clever story. When high school outsider Nick discovers a jackpot of money, he has to decide whether he will use this cash to better his social standing or help those who really need it. Learn 300 advanced vocabulary words as you read this delightful novella. A few of the vocabulary words included in The $ummer of $aint Nick: Hassock, Inanely, Recondite, and Wastrel
Operation High School: Entertains as it teaches 300 advanced-level vocabulary words. High school student Emma Jones lives a pretty ordinary life until a mysterious note turns her world upside down. As the newest member of a "Spy Club," Emma is forced to learn self-reliance, strength, and the value of friendship. A few of the vocabulary words included in Operation High School: Grandiloquent, Milieu, and Torpor.
Planet Exile: Tells the story of Maleck Vise Plutean and his adventures through outer space. After crash landing on the mythical "Planet Exile", Maleck and his friends are forced to stop a planetary insurrection, usurp an evil dictator, and rescue a beautiful princess all at the same time. A few of the vocabulary words included in Planet Exile: Ague, Cossack, Epaulet
These books can be purchased at $12.95 each or purchase all four at a discounted price of $38.85 Each book is approximately 120-230 pages long. The part that I love most about these books is the way they add a few new vocabulary words on each page. The word is used in context and bolded to let you know it's a vocabulary word, then you look at the bottom of the page to find the pronunciation and definition. At the end of the chapter there is a list of the vocabulary used in that chapter for you to review. There is also a main list at the end of the book with ALL the words, definitions, and pronunciations. Each book has 300 words! That's a lot of vocabulary building!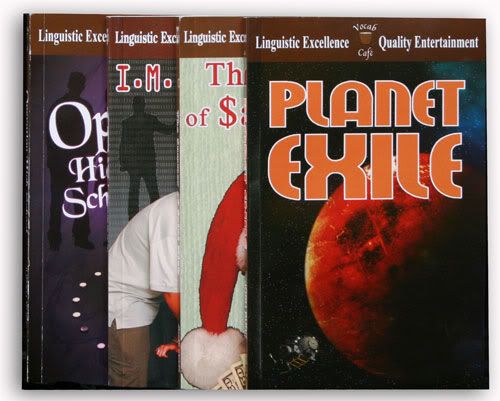 My personal opinion is that these books are too mature for my family at this time.(They are designed for high schoolers but are suitable for some upper middle schoolers) My oldest is age 11 and none of these books would have been something that 1) I would have allowed him to read or 2) he would have enjoyed reading. He may have enjoyed the I.M. for Murder but I wouldn't have allowed him at this point to read it. Not that it was extremely bad, just not something he needs to be exposed to, in this way, at this time. It's about a serial killer who finds it's victims on the internet, I'm afraid this would've been a little to scary for him. The others he wouldn't have been interested in.
If you have a high school student I think you will definitely want to look into this company. I believe it will be a website we'll visit again in the near (*gasp*) future as my oldest enters his high school years. I'm so thankful we have a company like this available for us.
If you'd like to see what other homeschoolers though, click here for more reviews.
**Disclaimer: As a member of the TOS Homeschool Crew, I received this product free of charge, in exchange for my honest opinion/review. For more honest reviews from real homeschoolers, visit the TOS Crew website.