I am super excited to share my family's experience with the new Jump Start Family Fitness Wii game
and
to offer you a chance to win your copy of this very energetic game!
This is a brand new game that just hit the stores on June 15. The retail price is $29.99 and it's rated E for everyone! The 'hostess' of this game is none other than Brooke Burke from Dancing with the Stars. She also has her kids featured in different games.
I asked my kids what they thought of the game and my 10 year old said "it's alot harder than some of our other Wii sports/fitness games."
My 8 year old had this to say about it: "It's fun! Very Fun! And active!" And I can attest to the fact that it will wear you out. We all agree it's an
active
Wii game, unlike some of the games out these days.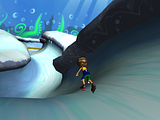 There are lots of options that allow you to customize your play. To get started you decide if you want to do drills which practice on one particular skill, or routines, which consist of up to 5 drills that play in a row without a break.
There are 7 categories and in each category there are several games to select. For example the 7 categories are Basketball, Racing, Football, Boxing, Balance, Volleyball, and Baseball. If you choose Baseball you then decide if you want to play Catching or Bating. Another example would be Volleyball, and then you decide if you want to Bump, Set, or Serve.
If you decide to do the routine, then you have more options and alot of workout time, lol. The way my boys did it was to start out doing drills in the different categories and then move to the routines once they became good at the drills they had practiced.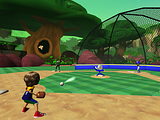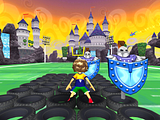 Another neat thing is that after you choose your game(s) you get to select the arena you would like to play it in. There's a place to meet every persons interest from Farm to Space and everything in between. There are 11 to choose from.
What I like about this game is it keeps track of how many calories you've lost during each session. Now that's good stuff! I would like to note that in order to do some of the games, such as step aerobics you will need the Wii balance board.
If you'd like to have a copy for your family just leave me a comment letting me know who you'd like to play it with. And for an extra chance in the drawing become a google friend follower. If you're already following, leave me a comment to let me know :-) I will draw the winner on Aug 1, please be sure to leave an email address or check back on Aug 1 to see if you're the winner.
Disclosure: I was provided with a copy of JumpStart Get Moving: Family Fitness at no cost by Knowledge Adventure in order to test the products' abilities and give my own personal opinions on it. The opinions I have given are mine and may differ from others but were not influenced by the company or the free
product provided.
***Edited***
The winner is Kimberly from
Until The Day Dawn
. Congratulations Kimberly! Hope you and your family enjoy it as much as my kiddies have =)